Travel Ideas
Accessible Possibilities
This article was written in cooperation with the Hawaii Disability and Communication Access Board. Please see their suggested traveler's tips here: https://health.hawaii.gov/dcab/files/2017/11/Oahu-8x11.pdf

Sure, you can spend all your time in Honolulu by the pool, especially given the fabulousness of many of the resorts and hotels. After ample relaxation, however, we recommend heading out into the city and exploring the beaches (several of which have all-terrain wheelchairs and beach mats), taking a helicopter ride (yes, it's accessible!) or just exploring the city. And don't forget to make time for shopping, which is probably one of the most popular activities in Honolulu!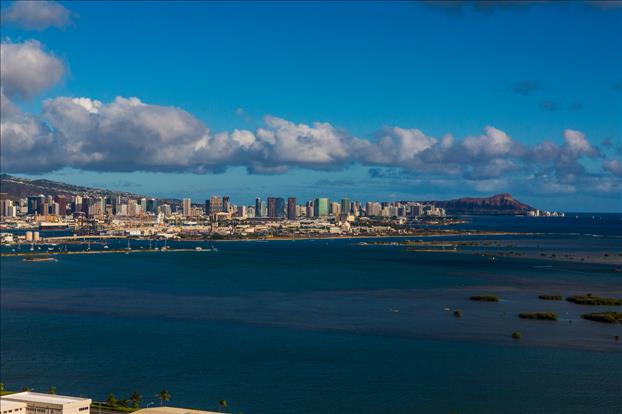 Urban Honolulu and Leahi | Hawaii Tourism Authority (HTA)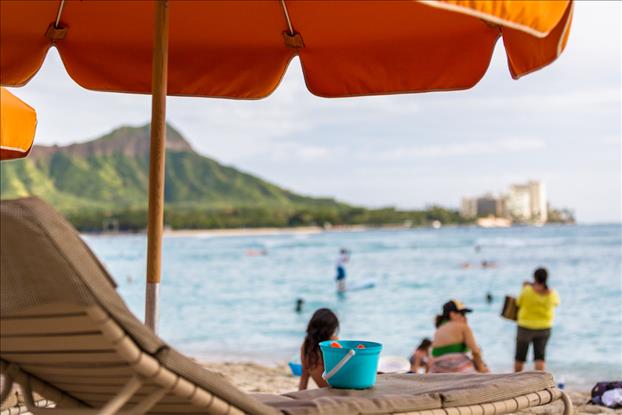 Looking over beach umbrellas towards Leahi (Diamond Head) | Hawaii Tourism Authority (HTA) / Tor Johnson
The first thing you think of when it comes to Hawaii is the beach. Your hotel may have a pool (or five), but nothing beats hitting the white sand and surf. The most popular beach of them all (and one of the world's most famous), Waikiki beach, stretches for two miles and is a natural draw for tourists. We recommend catching some rays before the beach (which is actually made up of eight separate beaches) gets too hot and crowded.

A number of Honolulu's beaches (and beaches in Oahu) offer all-terrain wheelchairs. These specially designed chairs have oversize rubber tires to make traveling over soft sand a breeze. There are also several beaches with beach mats, making heading down to the water much easier.

Mats and/or chairs are available at Ala Moana Beach Park, Fort DeRussy Beach and Sans Souci Beach in Waikiki; Hanauma Bay Nature Preserve, Kailua Beach Park, Kualoa Regional Park and Pokai Beach Park.

Find out more here.

Top Tip: Contact each individual site to reserve a chair in advance to make sure you don't miss out on Hawaii's top attraction.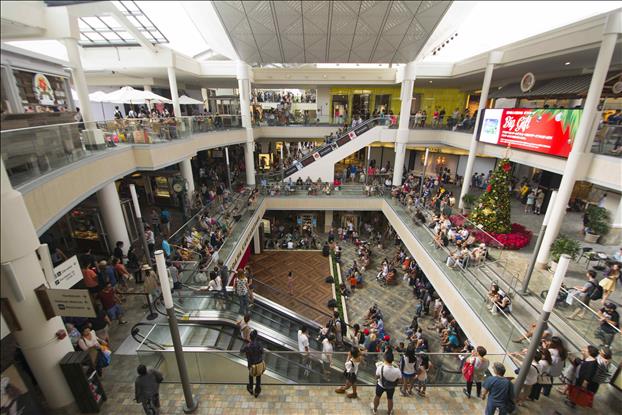 Ala Moana Center Stage | By Daniel Ramirez from Honolulu, USA (Ala Moana Center Stage) [CC BY 2.0 (https://creativecommons.org/licenses/by/2.0)], via Wikimedia Commons
Hawaii is famed for its shopping, so once you've had your fill of the beach (at least for the moment), it's time to hit the stores. One of the best – and the biggest – options is the Ala Moana Center. This mall holds the distinction of being the world's largest open-air shopping center with 2.4-million-square-feet of retail space. Located close to many of the Waikiki hotels, there are over 350 stores and more than 100 places to eat, drink and generally recover from too much retail therapy and avoiding the millions of people who come to spend, spend, spend here each year. While there are plenty of familiar stores and brands, there are also several Hawaii-based stores offering specialty merchandise, so it's a perfect place to stock up on souvenirs for friends and family back home.

Complimentary wheelchairs are available from Guest Services.

Top Tip: There's more than just shopping here. The center also boasts a Hawaiian art collection. Check the main pieces out here.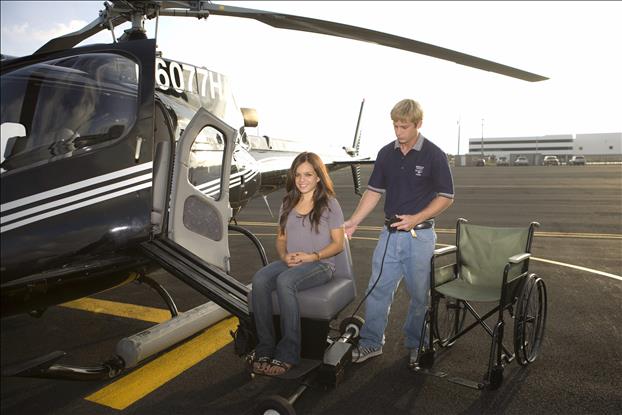 Makani Kai Helicopters
Oahu is stunning from the ground, but to get a really sensational view of the island, you need to be up in the air. Take a helicopter ride with Makani Kai Helicopters and get above the high-rise hotels and the crowds. Depending on how much time (and money) you want to invest, you can leave your earthly cares behind for anywhere between 30-60 minutes. Get a bird's-eye view of the Diamond Head crater, Hanauma Bay, Makapuu Point, the coral formations of Kaneohe Bay, Pearl Harbor and so much more.

Makani Kai Helicopters minibus has a wheelchair-accessible minibus to transport customers from their hotel to the flight sight. There is also a specially designed lift to move passengers from a wheelchair up into the cabin of the helicopter.

Contact the company in advance to discuss any special requirements.

Find out more here.

Top Tip: Wear dark-colored clothing to reduce glare on the Plexiglas windows. Trust us, your photos will come out much better.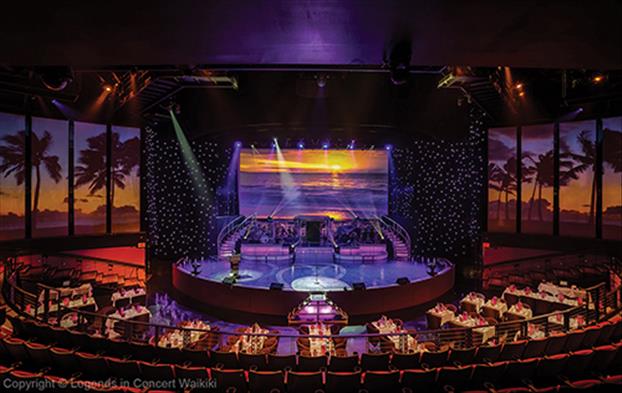 Legends in Concert Waikiki | Rock-A-Hula
Sometimes you have to let your hair down and there's no better place to do it than at Rock-A-Hula at the Royal Hawaiian Center. It may rate high on the kitsch scale, but this is one of Waikiki's top attractions, so who are we to argue? Depending on which ticket you buy, enjoy cocktails, a luau buffet dinner and even a welcome reception before watching tribute artists including Elvis, Michael Jackson and Katy Perry, accompanied by Samoan dancers and live musicians, strut their stuff on stage.

Rock-A-Hula offers special accommodations during the show for guests with wheelchairs. A wheelchair user plus one companion may be seated in the stage side area for the show.

Find out more here.

Top Tip: The Green Room backstage tour option is not fully accessible.
Lose a Jolly Hour on the Trolley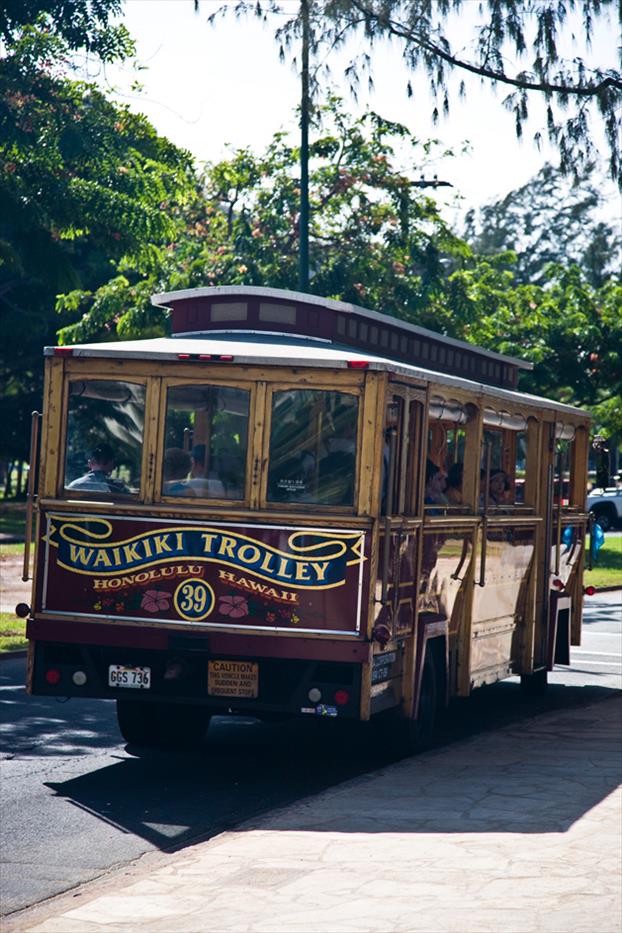 Waikiki Trolley | Hawaii Tourism Authority (HTA) / Tor Johnson
Get your bearings on board the Waikiki Trolley. With five lines and over 40 stops, the Trolley covers most of the attractions and shopping malls on Oahu. It journeys from Chinatown in the west to Kahala Mall to the east. Tickets allow for unlimited hop-ons and hop-offs and can be bought for multiple days, allowing you to get around the island freely without resorting to expensive cabs.

All of the Pink and Blue Line vehicles are wheelchair accessible. The Red, Green and Purple lines have one wheelchair lift-equipped trolley per line.

Find out more here.

Top Tip: Don't get stuck. Call 808-926-7604 to find out when the next accessible vehicle is arriving at your destination.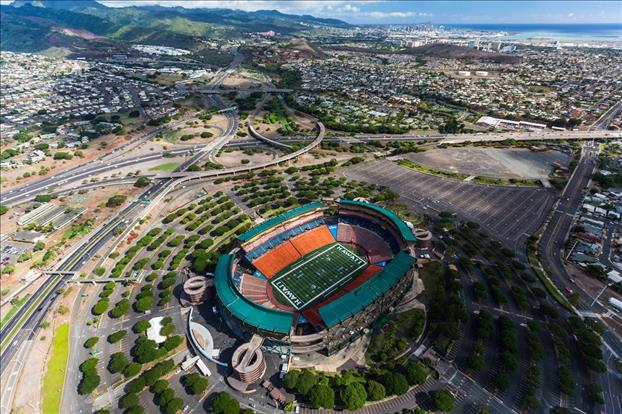 Aloha Stadium | Hawaii Tourism Authority
If you are in Honolulu on a Saturday, Sunday or Wednesday, head out to Aloha Stadium for the famous "Aloha Stadium Swap Meet & Marketplace." This huge market – a combination of souvenir shop, flea market and craft market – has been going since 1979 and is a great place to find clothes, accessories and holiday souvenirs at below Waikiki prices. With over 400 vendors, you are sure to find everything you are looking for – and no doubt, a whole lot of things you aren't!

Top Tip: Leave the credit card in your pocket. While some vendors will accept credit cards, make sure you keep cash on hand to cover your purchases.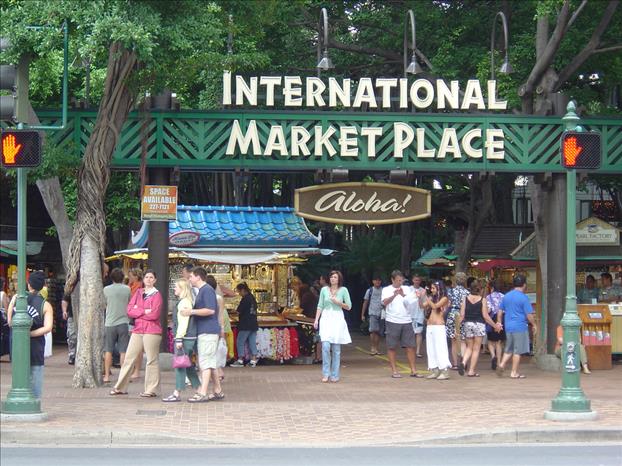 https://www.flickr.com/photos/calgaryreviews/5782615077/
Still with the shopping! If you aren't totally shopped out, head over to the 345,000-square-foot International Market Place. After closing for a few years, this much-loved icon re-opened its doors in August 2016. As well as shopping, it offers a "cultural journey" of Hawaii that is designed to honor the past while looking to the future. Once you've had a bit of culture, take your choice of over 100 stores and restaurants and get busy shopping – and eating. The third floor Grand Lanai (balcony) has some decidedly upmarket restaurants, as well as some more down-to-earth options.

Complimentary wheelchairs are available at Customer Service in the Mauka Court on the first floor. A refundable deposit is required.

Top Tip: If your shopping afternoon runs late, catch the free evening show called "O Na Lani Sunset Stories," which starts with a ceremonial lighting of the Lamaku Torch Tower on Kalakaua Avenue.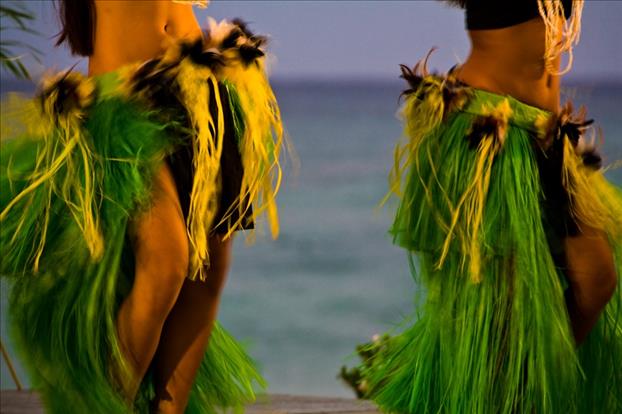 Hawaii Tourism Authority
When in Hawaii, you have to attend at least one luau – a traditionally Hawaiian part of a feast. You'll get to try Hawaiian fare, including poi (taro root), Kalua pig and haupia (a coconut milk-based dessert). There's also a showcase of traditional Hawaiian music and entertainment. Which luau you opt for depends on where you are based and what you want to spend. Check out Germaine's Luau, which has been entertaining visitors since 1976.

The Luau takes place on the beach and is wheelchair friendly (there are areas with compacted sand)– although you will probably need some help. Germaine's does not recommend bringing an electric wheelchair or scooter due to risk of damage from sand.

Top Tip: Contact Germaine's as soon as possible if you are bringing a wheelchair and using its transportation to get from your hotel to ensure you are accommodated on a wheelchair-accessible vehicle.
Honolulu is served by Daniel K. Inouye International Airport.

There is a free intra-airport passenger transportation system to transport passengers between the terminals and stops at the main lobby area, outlying gates, baggage claim and the Interisland Terminal. Most buses are accessible with lifts or ramps.

Accessible parking spaces are available in all parking facilities. See map for details.

Accessible airport curbside loading and unloading zones are available at the following locations:
Overseas Terminal – seven at both arrival and departure levels.
Interisland Terminal – two at both the arrival and departure levels.
Commuter Terminal – one for arrivals and one for departures.
Text Telephones are available at the following locations:
Main Terminal: Gates 9, 23 and 29; Lobby 4 (between Air New Zealand and Japan Airlines counters) & Lobby 7 (near American Airlines counter); Baggage Claims E and G and the International Arrivals Exit.
Interisland Terminal:
Across Gate 56; Hawaiian Airlines Baggage Claim B and near Gate 50.
Commuter Terminal: Gate 80 and Baggage Claim A
Guide/Service dogs may qualify for modified State of Hawaii rabies quarantine import requirements under strictly enforced conditions. For more information, visit the HDOA's Guide and Service Dogs page.
There is an animal service area in a fully fenced-in grassy area under the palm trees between the International and Overseas Public Parking structures.
There are two additional Service and Transit Animal Relief Stations in the Sterile area. They are located at the inter-island terminal ground level, in the C.B. Lansing Garden and in the Overseas Terminal Central Concourse ground level in the Hawaiian Garden.

Find out more here.

If you require a lift-equipped vehicle, notify a dispatcher and arrangements will be made for you, though best to arrange in advance:

Roberts Hawaii Express Shuttle- 808-439-8800 or 1-866-898-2523 (no advance notice required).

AMPCO Express - 808-831-2023.

TheBus, Honolulu's public transportation system is accessible. Buses have ramps or kneeling capabilities.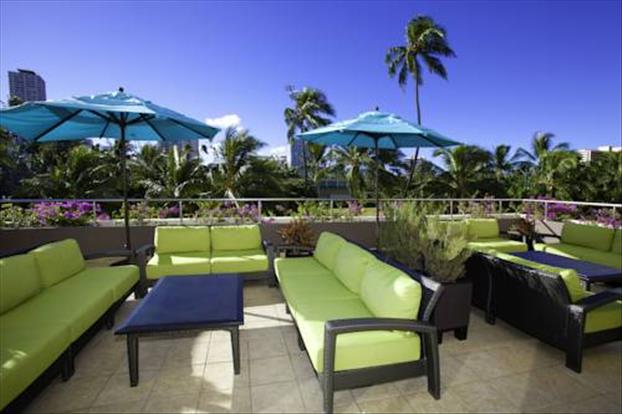 Base yourself at the 3-star DoubleTree by Hilton Alana – Waikiki Beach. Each room has a private lanai (balcony), coffee makers, large flat screen TV and oversized "rain" shower. The hotel is within walking distance of the Ala Moana Center – the largest open-air shopping center in the world – and just a 10-minute walk from Waikiki Beach.

Mobility accessible rooms include lowered door peepholes, lever door handles, lower or adjustable closet rods, roll-in shower or accessible tub with grab bars, lever tub fixtures and hand-held shower heads. Tub seats and wheelchairs are available upon request.

Hearing-accessible features include a visual alarm, closed captioning on televisions and TTY.

The business center, exercise facility, swimming pool and restaurant are all accessible.

The hotel has valet parking and offers accessible transportation with advance notice.

Find out more here.
I'm travelling to:
and I'd like to find: